How to setup trust wallet
Battle Infinity's Beginner's Guide on Setting Up Trust Wallet
You must have a reputable wallet that can connect to the Binance Smart Chain in order to purchase and store IBAT tokens.
Note Battle Infinity is the project name and IBAT is our token Symbol.
We contend that Trust Wallet, which allows direct access to decentralized exchanges like Pancakeswap and is easy to use, is the greatest choice in this regard.
This beginner's tutorial is for you if you're entirely new to Trust Wallet and need a little assistance getting set up.
A Quick Overview of Trust Wallet Installation
This quick tutorial will show you how to set up Trust Wallet so you may buy and store IBAT tokens with security.
First, get the official Trust Wallet app. – An software for mobile wallets called Trust Wallet is supported by the Binance exchange. The app can be downloaded through Google Play or the App Store, or you can go to the Binance website to find the download link.
Second step: Create a wallet – You will now be prompted to choose whether you want to establish a new Trust Wallet or if you already have one. To create a new wallet, click the "Create a Wallet" button.
Third step: Make a backup Passphrase – Take careful note of the 12-word backup pass that you are provided. Next, manually input each of the 12 words in the exact order so that Trust Wallet understands you have correctly typed down the backup passphrase.
Fourth step: Add IBAT Token – You may now add IBAT tokens to your mobile device's Trust Wallet after setting it up. To accomplish this, select "Add Custom Token" from the menu in the top-right corner of the screen.
Fifth step: Copy and paste the IBAT Contract Address: Copy and paste the IBAT token's contract address, which is listed below.
IBAT Contract Address: 0x19cd9b8e42d4ef62c3ea124110d5cfd283ceac43
Want to know how to set up Trust Wallet so that you may purchase and/or store IBAT tokens in greater detail? Read on if so.
Step 1: Download Trust Wallet
Downloading Trust Wallet is the first step that must be taken. As mentioned before, Trust Wallet is a mobile app that is supported by Binance.
The software must thus be downloaded to your smartphone using Google Play or the App Store.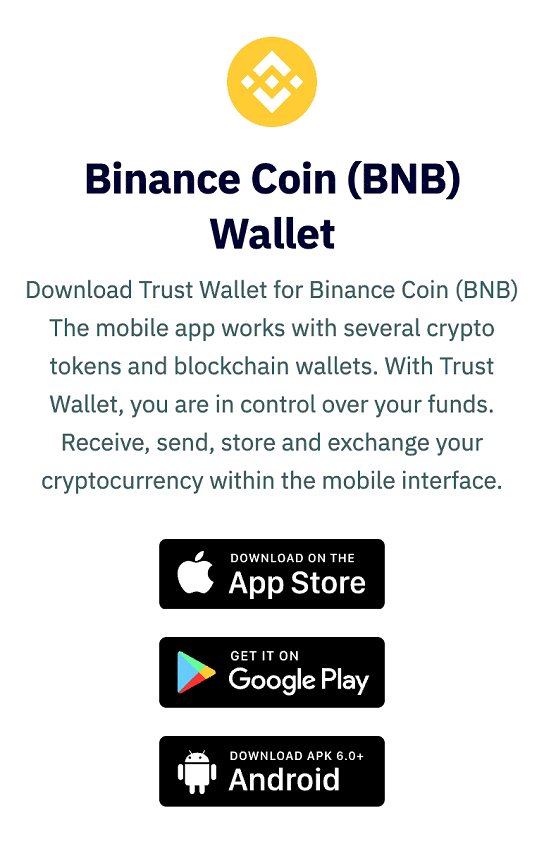 To be absolutely certain you are downloading the official Trust Wallet software, Binance advises using the download link from its own website.
Step 2: Set Up Trust Wallet
Open the app when Trust Wallet has been downloaded to your phone. You must then select the "Create New Wallet" option.
Create PIN
You will now be prompted by Trust Wallet to generate a PIN of four to six digits. Every time you want to access your Trust Wallet, you must enter this PIN. For further protection, you actually need to do this each time you exit the wallet UI.
Write Down Backup Passphrase
Your exclusive 12-word passphrase, which serves as your Trust Wallet's private key, will then be displayed to you.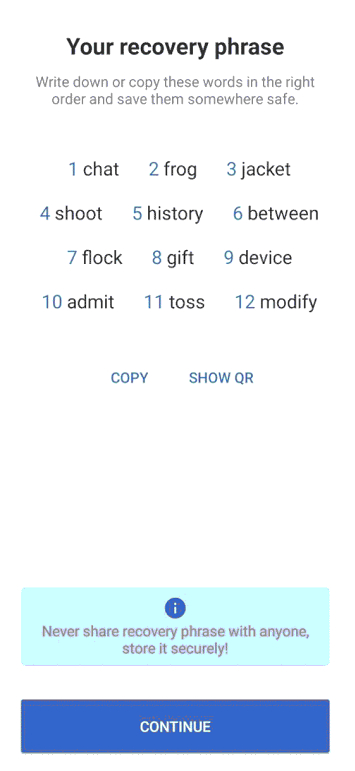 Therefore, it is imperative that you accurately record the 12 words and save the corresponding piece of paper in a secure location.
After all, inputting this backup passphrase will be the only method for you to recover access to your Trust Wallet funds if your phone is lost or stolen.
Re-Enter Backup Passphrase
Trust Wallet will now need to validate that you entered the backup passphrase exactly as it should be entered, including the words and order.
This implies that you must enter each word separately and in the proper sequence. Trust Wallet will enable you to click on the appropriate word from a selection of alternatives once you have typed a few letters in the word.
Step 3: Add IBAT to Trust
The following step is to include IBAT into your Trust Wallet UI. To do so, first click on the app's logo, which is found in the upper-right corner. This will then display a list of tokens that are automatically added to the Trust Wallet.
Scroll all the way to the bottom of the list and select 'Add Custom Token.' Next, you may notice that the network is set to 'Ethereum' by default.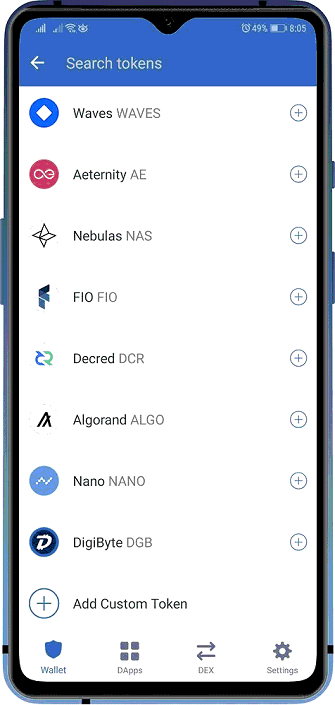 Because IBAT runs on the Binance Smart Chain, you will need to alter this.
The relevant contract address, which can be seen below, must then be pasted in order for the Trust Wallet to find IBAT.
Network: BNB Smart Chain
IBAT Contract Address: 0x19cd9b8e42d4ef62c3ea124110d5cfd283ceac43
Name: Battle Infinity
Symbol: IBAT
Decimals: 9
Block Explorer URL: https://bscscan.com
It's important getting into the habit of confirming the contract address via the Battle Infinity Telegram channel once again.
You can be certain that you are inputting the proper address this way. The blank fields will now be filled up with the relevant IBAT contract details, such as the name, symbol, and number of decimals.
That's it – you've successfully installed Trust Wallet! If you have yet to purchase IBAT, you may do it using presale.battleinfinity.io .
Best of all, Trust Wallet integrates with presale.battleinfinity.io, allowing you to buy and store IBAT tokens in one app.
Tips for Keeping Your Trust Wallet Safe
You must take all reasonable precautions to protect your digital cash after adding IBAT to your Trust Wallet.
After all, online thieves are becoming more intelligent, and one of their main goals is frequently to steal cryptocurrencies.
As a result, we go through some excellent advice for protecting your Trust Wallet and IBAT tokens below.
Tip 1: Create a Strong Screenlock Password
First and foremost, we cannot emphasize enough how important it is to configure a solid screen-lock password on the mobile device where your Trust Wallet software is installed.
As a result, if someone gains access to your device, this will serve as the first line of protection.
This is especially critical if your phone is lost or stolen because the person in control of the device must know your screen-lock password before they can access your Trust Wallet app.
The longer and more difficult your screen-lock password, the better.
Tip 2: Use a PIN that no one can guess
It goes without saying that you should never choose a simple, general password for your Trust Wallet app, such as '0000' or '1234.'
As a result, if someone gains access to your smartphone and then defeats your screen-lock password, they will have a strong chance of accessing your Trust Wallet account.
Trust Wallet allows you to input a PIN of between 4-6 numbers when you first set up the wallet. A 6-digit PIN is recommended for maximum protection.
Tip 3: Avoid Using Links
Malware is one of the most efficient techniques for thieves to remotely attack crypto wallets.
And one typical method for this to happen is if you unintentionally click on a malicious link generated by the bad actor.
When this occurs, the hacker has a good probability of remotely gaining access to your Trust Wallet and so stealing your digital valuables.
Keeping this in mind, you should avoid clicking on any links given by an untrusted source.
Tip 4: The Admin of Battle Infinity Will Never Message You First
Following up on the previous tip, bad actors will frequently use the Telegram app to trick people into thinking they are interacting with the legitimate Battle Infinity admin.
In many situations, this will be accomplished by claiming to be a member of the admin team and sending a direct message to IBATtoken holders.
Make no mistake: no official Battle Infinity team member will ever send you a direct message first. If you receive one, ban and report the offending Telegram account.
Tip 5: Never Give Out Your 12-Word Backup Password.
As previously stated, your unique 12-word backup pass is your Trust Wallet private key.
As a result, if someone gets access to these 12 words in the exact combination, they may remotely access your Trust Wallet account. As a result, they will be able to withdraw your full digital asset amount.
As a result, it is critical that you do not reveal your Trust Wallet backup pass to anybody – under any circumstances.
The Last Word?
This beginner's tutorial has provided straightforward instructions on how to set up Trust Wallet, allowing you to securely purchase and store IBAT tokens.
We've also included some useful advice on how to protect your Trust Wallet, so you can be confident you won't fall victim to fraud or hacking.